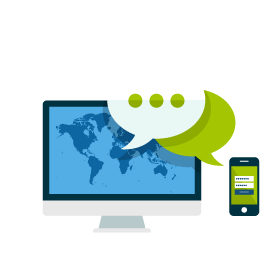 Social Media Marketing Services
Helping you grown in the virtual world -Multidimensionally!
We are a full service SEO agency. Our social media experts can help you establish your business objectives, identify your target audience, create engaging and share-worthy content and finally integrate your social media with all other aspects of your online presence.
Our services at Online Marketing Heroes are custom to your brand specification. We offer :
Fully integrated social planning and management
Content planning and generation
Social media specific blogs, videos, and banners that attract new users
Customer retention through user communication campaigns
Increased ROI.
Our team of Social Media Marketing Heroes is expert at zoning your business identity across all popular social media channels that include Facebook, LinkedIn, Twitter, Google+, Vine, Pinterest and much more. Assuring a lucrative outcome that not only establishes brand worth but also creates a direct positive impact on user acquisition and retention, we ensure an all round exposure in the social realm.

Brand Monitoring
Adopting a structured analysis of your brand's performance, we influence how your target audience perceives your brand, enhancing business reputation.
Social Media Management
Let our experts handle your social media accounts with scheduled posts that escalate brand performance and diligent engagement with your audience. You are sure to be a magnet to stardom soon.
Content Strategy
Give your business the edge it demands through structured content carefully crafted by our team of expert copywriters. With effective SEO, let your business make a statement.
Social Media Contests
With careful understanding of your brand category, we construct social media contests on various platform that best identifies with your brand
Setup & Custom Profile Design
Crafting your social media profile in sync with your brand identity, we create the ultimate package that defines your business to the target audience.
White Papers
Promote your business with high-quality white paper marketing that will substantially increase your social media engagement levels and solidify your position in the industry.
Tell us about your project
Let us help you get your business online and grow it with passion